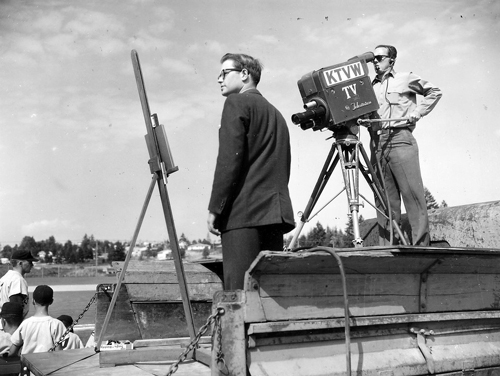 Tom Read doing a commercial from the back of an open bed truck during a remote in Tacoma on Channel 13.
frantic to find and develop local programming and advertisers. Everyone in radio was immediately shuffled to TV in addition to their radio duties.
KMO sales people were routinely calling on Clay's advertising agency looking for business for KMO radio and now for KMO-TV. Clay and I were talking about getting our agency clients into TV but again, we only made a 15% agency commission for the business we placed.
Since we had started to buy bulk time to do radio sports and other programming for our agency clients, I suggested to Clay that we come up with some sort of local TV show by buying the bulk time and putting our agency clients into the show.
It worked in radio, it should work in TV. Clay agreed and came up with the idea of a weekly half hour review of the previous Friday night and weekend games with the coaches of the local teams. We called it "Clay Huntington's Sports Desk". KMO-TV was hungry for business so they sold the agency a half hour weekly and Clay and I started the longest running, live, local TV show in Tacoma.
NPB: You told the story at one of the pioneer conventions about the live show when Clay asked you to put some gal on the air, in the commercial. Would you share that classic story and tell what the show was like?
TR: Let's see if we can find the audio cut and post it about the gal. The show was very simple by today's standards. There was a long table, maybe five feet with a gray curtain behind it. Clay and the coaches simply sat at the table and we used one camera. The second camera was used for my opening and commercials.
NPB: I would like to get back to the early days with you and Clay and the Clay Huntington Advertising Agency. You mentioned that you had used the concept of buying bulk time from the local radio stations rather than just buying spots on behalf of the agency clients and so you tried it in TV also. How did that first come about in radio?
TR: As you have probably gathered, Clay was not much of a detail person in the early days. He was the idea man, the promoter. Then he wanted to move on and leave the execution to others, which in the case of the agency, was me.
Even as a kid I was very good with math and figures so part of my responsibility at the advertising agency was to pay the bills. I would come in Saturday mornings, maybe once a month, and do the bookkeeping before I went out to KTBI. So I was very aware that the agency was not making a ton of money by only receiving a 15% commission on the advertising we placed for our clients on the local stations. I was producing the commercials, recording them on my own tape machine and delivering the spots to the stations on a silver platter, so to speak.
I told Clay one day that I did not think it fair that we did all the work, Clay did write some of the copy and of course did the selling, and the stations got 85% of the money and we only got 15%. Also, we were buying time on play by play broadcasts for which Clay was being hired as a free lance announcer for very little money. Remember that KTBI was now a daytime station and not doing any sports and KMO always hired one of its three studio, staff announcers who could do play by play. So KMO had a staff play by play man and they did not have to hire Clay other than to be the announcer on hockey with Bob Fields or to fill in when there were two games in one night. Rod Belcher was the staff play by play man and was replaced in 1950 by Bob Robertson at KMO.
So I told Clay that if we purchased the time to do some local games we could make more money than his free lance fee and do better than our 15% agency commission. That logic appealed to Clay so he approached the stations on that basis and the agency started to make more money and we had total control of the programming.
NPB: So you worked with Clay on live sports broadcasts?